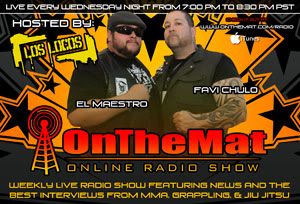 Tune in to OTM Radio on Wednesday, June 6th, 2012 as Los Locos, Favi Chulo and El Maestro welcome in one of the best female MMA fighters in the world, a UFC welterweight veteran, and a Strikeforce veteran.
The show will start with a visit from longtime friend of OTM Cristiane "Cyborg" Venancio Justino. Cyborg is the former Strikeforce women's featherweight champion in MMA and ADCC 2009 bronze medalist at +60 kg in Submission Grappling. This past weekend, she defended her 2011 IBJJF – World Jiu-Jitsu Championship at Purple Belt by winning the 2012 title in the same division. This gives her back-to-back gold medals in Jiu-Jitsu in the women's heavyweight Purple Belt division. She will talk about her recent success in Jiu-Jitsu and the highly-anticipated showdown with her nemesis Ronda Rousey in MMA, which is a bout many expect to see happen early next year.
Next we will be joined by one Adam Nadow of Cancer Fighters. Last monthm Nadow won his Blue Belt division at the 2012 IBJJF – Long Beach International Open Championship, but he is better known for his work off the mat. Nadow works for the non-profit organization that consists of a group of Brazilian Jiu-Jitsu fighters who accept and rely on donations to compete in tournaments nationwide, and in return, donate all proceeds to cancer treatment and research. To learn more, "like" their Facebook page at www.facebook.com/bjjcancerfighters.
The show will then conclude by talking to Renato "Babalu" Sobral. Babalu is one of the most well-known light-heavyweight MMA fighters in the world. He first made a name for himself fighting for the UFC ten times, which included a title shot at UFC 62. Later he won the Strikeforce Light-Heavyweight title and also won an IFC 8-man tournament, where he defeated Trevor Prangley, Mauricio "Shogun" Rua, and Jeremy Horn in the same night. On June 23rd, he headlines ONE FC 4 – Destiny of Warriors against former DREAM star Tatsuya Mizuno. Sobral and Mizuno will meet in the main event at the 10,200 capacity Stadium Negara in Kuala Lumpur, Malaysia.
If you have any questions you would like to ask any of our guests, please feel free to log in to our interactive chat room at www.onthemat.com/radio. Log in to the chat room, click play on the radio link, and ask any questions you got!
Wednesday, June 6th line-up:
-Cristiane "Cyborg" Venancio Justino at 7:15 p.m. PST.
-Adam Nadow at 7:30 p.m. PST.
-Renato "Babalu" Sobral at 8:00 p.m. PST.