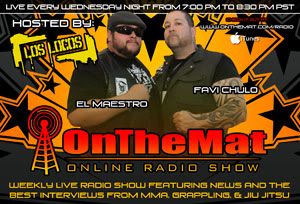 Tune in to OTM Radio on Tuesday, February 28th, 2012 as Los Locos, Favi Chulo and El Maestro welcome in the University of Nebraska's wrestling coach, one of the best judoka ever to fight in the UFC, and a "wildman" who has fought some of the biggest names in MMA.
The show will start with a visit from Mark Manning. Before becoming the head wrestling coach at the University of Nebraska, Manning was a standout wrestler during his competitive career as well. In fact, he was a two-time NCAA Division II national champion and three-time All-American at the University of Nebraska-Omaha. Manning will talk to us about how the transition from the Big 12 to the Big Ten has gone for his team this season, as well as what he expects as his team heads into the Big Ten Championships this weekend.
Next we will be joined by one of MMA's most successful and exciting judoka, as 13-time UFC veteran Karo "The Heat" Parisyan stops by to talk about his upcoming fight in the Worldwide MMA organization at the end of March. Parisyan, who for years was one of the UFC's biggest welterweight stars, was originally slated to fight former UFC middleweight champion Dave Menne. He will now face former King of the Cage welterweight champion Thomas Denny on Saturday, March 31st, 2012 at the Don Haskins Center in El Paso, Texas.
The show will then conclude by talking to Thomas "The Wildman" Denny, who is the man that Parisyan will be fighting in the co-main event of next month's Worldwide MMA event. Denny made a name for himself in King of the Cage, where he has fought 21 times and became the welterweight champion. During his 47-fight MMA career, he has fought some of the biggest name talent in the sport. A short list of names that he has faced, include UFC stars Georges St-Pierre, Joe Stevenson, Nick Diaz, Duane Ludwig, Yves Edwards, and Pat Miletich.
If you have any questions you would like to ask any of our guests, please feel free to log in to our interactive chat room at www.onthemat.com/radio. Log in to the chat room, click play on the radio link, and ask any questions you got!
Tuesday, February 28th line-up:
-Mark Manning at 7:15 p.m. PST.
-Karo Parisyan at 7:30 p.m. PST.
-Thomas Denny at 7:45 p.m. PST.