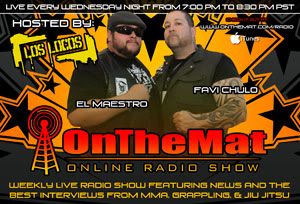 Tune in to OTM Radio on Wednesday, April 25th, 2012 as Los Locos, Favi Chulo and El Maestro welcome in a decorated member of the legendary Gracie family who currently competes in MMA for ONE FC and a PRIDE veteran who also coaches wrestling at Purdue University.
The show will start with a visit from Rolles Gracie Jr. Rolles is the son of the late, great Rolls Gracie and Rolles and his younger brothers Igor Gracie and Gregor Gracie are very accomplished black belt jiu-jitsu players, submission grapplers, and mixed martial artists as well. Rolles placed second at ADCC 2007 in the +99 kg weight class. He also holds an impressive 6-1 record in MMA with his lone loss coming in the UFC. Rolles currently fights for the Singapore based MMA promotion ONE FC. He submitted former PRIDE star Bob Sapp with punches at ONE FC 2 in February and looks to continue his 3-fight winning streak.
The show will then conclude by talking to MMA pioneer and former PRIDE veteran Tom "Big Cat" Erikson. Erikson began fighting professionally in 1997 and holds notable wins over Kevin Randleman, Gary Goodridge, and Tim Catalfo. He gained his most fame fighting for PRIDE in Japan, where he held a winning record for the organization. In college, he was a two-time All-American in wrestling at Oklahoma State in 1986 and 1987 and 10 years later he placed fourth at the FILA World Championships in 1997 as a freestyle wrestler. Erikson has also been an assistant wrestling coach at Purdue University since 1997.
If you have any questions you would like to ask any of our guests, please feel free to log in to our interactive chat room at www.onthemat.com/radio. Log in to the chat room, click play on the radio link, and ask any questions you got!
Wednesday, April 25th line-up:
-Rolles Gracie at 7:15 p.m. PT.
-Tom Erikson at 7:30 p.m. PT.