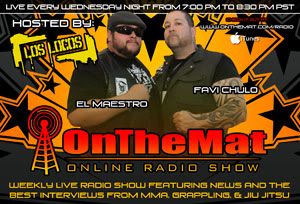 Tune in to OTM Radio on Wednesday, January 25th, 2012 as Los Locos, Favi Chulo and El Maestro welcome in some of the most highly-decorated wrestlers and grapplers in the MMA scene.
The show will start with a visit from undefeated women's MMA star Sara McMann, who is fresh off of her dominant win over Hitomi Akano this past weekend. She defeated Akano in the co-main event of ProElite – Grove vs. Minowa. McMann is noted as one of the most promising fighters in the sport, male or female, after winning a silver medal in women's wrestling at the 2004 Olympic Summer Games in Athens, Greece.
Next we will be joined by Kenny Johsnon. Johnson has been nominated for a Pulitzer for his poem "The Rose and the Silver Bell", he competed at the University of Iowa on the undefeated Big Ten and National Championship wrestling teams under legendary coach Dan Gable, and is now serving as the wrestling coach to MMA champions B.J. Penn, Anderson Silva, Paul Daley, and Antonio "Minotauro" Nogueira.
The show will then conclude by talking to UFC and ADCC veteran Alberto Crane. Crane who is a highly-decorated Gracie Barra black belt and the former KOTC and ROF lightweight champion has now established himself as one of the premier grappling coaches in MMA. He will talk with us about the exiciting debut of his student Jared Papazian, who fought Mike Easton to a razor-close decision on the main card of the UFC this past weekend.
If you have any questions you would like to ask any of our guests, please feel free to log in to our interactive chat room at www.onthemat.com/radio. Log in to the chat room, click play on the radio link, and ask any questions you got!
Wednesday, January 25th line-up:
-Sara McMann at 7:15 p.m. PST.
-Kenny Johnson at 7:30 p.m. PST.
-Alberto Crane at 7:45 p.m. PST.