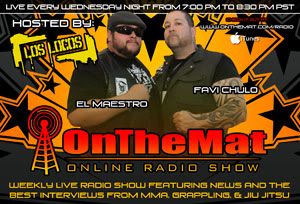 Tune in to OTM Radio on Wednesday, April 18th, 2012 as Los Locos, Favi Chulo and El Maestro welcome in a national champion wrestler turned RFA fighter, a Pan Jiu-Jitsu black belt champion, and a former UFC heavyweight champion.
The show will start with a visit from T.J. "The Carnivore" Hepburn. Hepburn is coming off the most successful month in his young athletic career. In March he won the NCAA Division II national title for wrestling at 157-pounds as well as the overall team title for the University of Nebraska-Kearney (UNK). He then finished the month by winning his final amateur MMA bout in dramatic fashion by knocking out local rival Kellen Fraser in the second round. Hepburn is now gettting ready to make his pro debut at RFA 3 on Saturday, June 30th.
Next we will be joined by Kurt "The Rhino" Osiander who is fresh off of his gold medal winning performance at the 2012 Pan Jiu-Jitsu Championship in Irvine, CA. He won the Black Belt senior 3 category in the heavyweight division and also placed third in the Black Belt senior 3 absolute division. Osiander is a longtime friend of OTM and jiu-jitsu black belt under Ralph Gracie who many people may recognize from his popular "Move of the Week" segments on YouTube. He will talk to us about his successful run at the Pans, as well as his upcoming 1-Day seminar on May 5th in Chino Hills, CA.
The show will then conclude by talking to MMA pioneer and former UFC heavyweight champion Maurice "Mo" Smith. Smith cemented his long fighting career by winning the UFC heavyweight title over Mark Coleman at UFC 14 in 1997. Nearly 15 years later, at RFA 2, Smith returned to compete for the first time in nearly 4 years in his light-heavyweight debut. At 50 years of age, Smith proved that superior skills can offset many things, including father time. He turned back the clock and systematically dismantled his much younger opponent Jorge Cordoba before putting an end to things in the third round with a brutal head kick KO.
If you have any questions you would like to ask any of our guests, please feel free to log in to our interactive chat room at www.onthemat.com/radio. Log in to the chat room, click play on the radio link, and ask any questions you got!
Wednesday, April 18th line-up:
-T.J. Hepburn at 7:15 p.m. PT.
-Kurt Osiander at 7:30 p.m. PT.
-Maurice Smith at 7:45 p.m. PT.