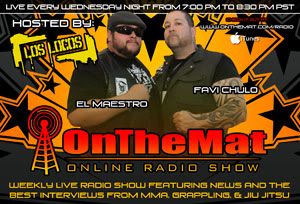 Tune in to OTM Radio on Tuesday, February 14th, 2012 as Los Locos, Favi Chulo and El Maestro welcome in a rising UFC welterweight star, a 10th Planet Jiu-Jitsu black belt, and the TPF featherweight champion.
The show will start with a visit from Charlie "The Spaniard" Brenneman, who is making waves in the UFC welterweight division. After making his UFC debut in March 2010, Brenneman has left his mark on the 170-pound division by utilizing his NCAA Division I wrestling skills to win four times inside the Octagon. He recently earned a Unanimous Decision victory over Daniel Roberts at UFC on FX 1 on Friday, January 20th.
Next we will be joined by Denny "300" Prokopos. Prokopos is recognized as being the first person to receive a black belt in 10th Planet Jiu-Jitsu under the rubber guard master Eddie Bravo. On January 29th, Prokopos won a gold medal at the Gracie U.S. Nationals in the No-Gi Advanced lightweight (155-pounds) division.
The show will then conclude by talking to current TPF champion Georgi "Insane" Karakhanyan. In December, Karakhanyan submitted Isaac DeJesus via Triangle Choke in the first round at TPF 11 to earn the TPF featherweight title. He is now set to defend his title for the first time against WEC veteran Micah Miller at TPF 12 on Friday, March 9th, 2012.
If you have any questions you would like to ask any of our guests, please feel free to log in to our interactive chat room at www.onthemat.com/radio. Log in to the chat room, click play on the radio link, and ask any questions you got!
Tuesday, February 14th line-up:
-Charlie Brenneman at 7:15 p.m. PST.
-Denny Prokopos at 7:30 p.m. PST.
-Georgi Karakhanyan at 8:00 p.m. PST.