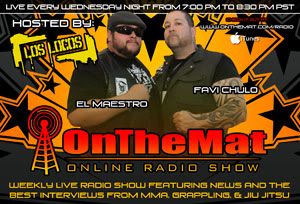 Tune in to OTM Radio on Wednesday, February 22nd, 2012 as Los Locos, Favi Chulo and El Maestro welcome in a rising UFC bantamweight star, a UFC welterweight veteran, and the Ultimate Absolute's promoter.
The show will start with a visit from Damacio "The Angel of Death" Page. The Jackson's MMA mainstay will be making his sophomore appearance for the UFC in April, when he takes on English standout Brad Pickett at UFC on Fuel TV 2. The fight is scheduled to take place on Saturday, April 14th at the Ericsson Globe Arena in Stockholm, Sweden. Prior to the UFC, Page was a 5-time WEC veteran and appeared on the first-ever episode of the TapouT reality television show, which was highlighted with his KO victory over Rod Montoya in 2007.
Next we will be joined by one of Canada's leading grappling and jiu-jitsu promoters Riccardo "Baleia" Ammendolia. Baleia is a longtime friend of OTM and has helped spread the growth of grappling and jiu-jitsu north of the border. He is the Canadian Director for ADCC in Canada and is a part of the board of directors for ADCC North America. He also frequently commentates at some of the world's biggest grappling and jiu-jitsu tournaments. This weekend, Baleia will be promoting and commentating at the $10,000 Ultimate Absolute lightweight 16-man tournament in New York City, New York.
The show will then conclude by talking to Michael "The Joker" Guymon. Guymon began fighting professionally in the 1990's and has done a lot to promote the sport in an out of the cage. Once a part of the TapouT crew, he went on to win the King of the Cage welterweight title, and fought for the UFC four times before annoucning his retirement from the sport last year. He holds notable wins over UFC veteran Yoshiyuki Yoshida, TUF 11 star Kyacey Uscola, and Strikeforce veteran Quinn Mulhern. Guymon currently teaches alongside fellow UFC welterweight veteran and TUF 9 welterweight winner James Wilks at his MMA gym Joker's MMA in Lake Forest, California.
If you have any questions you would like to ask any of our guests, please feel free to log in to our interactive chat room at www.onthemat.com/radio. Log in to the chat room, click play on the radio link, and ask any questions you got!
Wednesday, February 22nd line-up:
-Damacio Page at 7:15 p.m. PST.
-Riccardo Ammendolia at 7:30 p.m. PST.
-Michael Guymon at 7:45 p.m. PST.