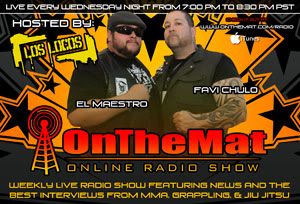 Tune in to OTM Radio on Wednesday, December 14th, 2011 as Los Locos, Favi Chulo and El Maestro, host longtime UFC veteran Dennis Hallman fresh off of his first round submission victory over the previously unbeaten John Makdessi this past Saturday night at UFC 140 in Toronto, Ontario, Canada.
Also joining the show will be OTM sponsored Ralph Gracie jiu-jitsu brown belt Sean Roberts, who will discuss his recent success on the national jiu-jitsu and submission grappling circuit.
The show will then conclude with a visit from top UFC middlweight contender Mark Muñoz, as he prepares to fight Chael Sonnen next month. The middleweight title-shot eliminator bout between Muñoz and Sonnen will be televised in prime time on FOX, as part of the UFC's second ever broadcast on the network.
If you have any questions you would like to ask any of our guests, please feel free to log in to our interactive chat room at www.onthemat.com/radio. Log in to the chat room, click play on the radio link, and ask any questions you got!
Wednesday, December 14th line-up:
-Dennis Hallman at 7:15 p.m. PST.
-Sean Roberts at 7:30 p.m. PST.
-Mark Muñoz at 7:45 p.m. PST.
---