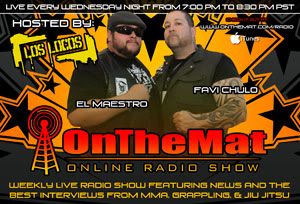 Tune in to OTM Radio on Wednesday, March 14th, 2012 as Los Locos, Favi Chulo and El Maestro welcome in a UFC and MMA pioneer as well as an MMA clothing entrepreneur.
The show will start with a visit from Guy Mezger. Mezger won his professional MMA debut in December 1994 at UFC 4. He would win again at UFC 5 before taking his career to Japan. He would return to the UFC in May 1997, where he defeated Christophe Leininger and Tito Ortiz to win the UFC lightweight (200-pounds & under) tournament at UFC 13. Mezger would become a star in the UFC and PRIDE before retiring from the sport in January 2005. Since his retirement he has remained very active in sport, which includes instructing as well as being named President of Mark Cuban's HDNet Fights. Earlier this year, Mezger made headlines after stopping a knife-wielding felon who was attacking a defenseless woman. Mezger will discuss that situation and his latest endeavors in the sport.
The show will then conclude by talking to "Hitman" Dan Diaz. Hitman Dan, as many know him, is the man who created one of MMA's original apparel companies Hitman Fight Gear. Through Hitman Fight Gear, Diaz helped support fighters through sponsorships, which helped grow the sport along with companies like TapouT. In 2008, TapouT bought Hitman Fight Gear, which saw Hitman Fight Gear grow even more. In 2010, after TapouT was bought by ABG, the Hitman Fight Gear brand disappeared and it's owner, Diaz, moved on. In recent weeks, however, one of the hottest topics outside of the cage has revealed that the split between Hitman Fight Gear and TapouT has not been that simple. Diaz will discuss how he has filed a lawsuit against TapouT and other parties.
If you have any questions you would like to ask any of our guests, please feel free to call in at (917) 889-8865 or log in to our interactive chat room at www.onthemat.com/radio. Log in to the chat room, click play on the radio link, and ask any questions you got!
Wednesday, March 14th line-up:
-Guy Mezger at 7:15 p.m. PST.
-"Hitman" Dan Diaz at 7:30 p.m. PST.