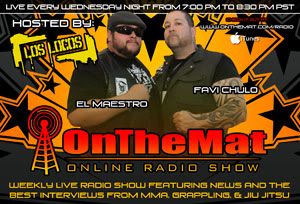 Tune in to OTM Radio on Tuesday, January 3rd, 2012 as Los Locos, Favi Chulo and El Maestro, kick off the first show of 2012 one day early this week with a starting time that will be 30 minutes earlier!
Joining the show will be three of the featured fighters on the upcoming Maximum Fighting Championship (MFC) card, which will be televised on HDNet later this month. MFC 32 – Bitter Rivals will take place on Friday, January 27th, 2012 at the Mayfield Inn Trade and Conference Centre in Edmonton, Alberta, Canada.
The show will start off with a visit from MFC welterweight fighter Jamie "The Ghost" Toney, who is a student of former UFC heavyweight champion Bas Rutten. Toney is a veteran of 22 fights and holds a triangle choke submission victory over the UFC's TUF 13 winner Tony "El Cucuy" Ferguson. Toney will face Kyle "The Jackhammer" Jackson at MFC 32.
Next we will be joined by MFC lightweight contender Adam Lynn, who will be celebrating his 10-year anniversary competing in the sport, just 13 days after his fight at MFC 32. Lynn is a veteran of several organizations, including the IFL and Strikeforce. He will face Mukai "The Afrikan Assassin" Maromo at MFC 32.
The show will then conclude with a visit from seasoned MMA veteran Antonio "Mandingo" McKee. McKee has been fighting for over 12 years and has fought for the UFC, IFL, and MFC, where he won the MFC lightweight title against UFC veteran Derrick Noble at MFC 20 – Destined for Greatness in February 2009. He will look to do so again later this month, as he fights for the the title against fellow UFC veteran Brian Cobb, who joined OTM Radio last week.
If you have any questions you would like to ask any of our guests, please feel free to log in to our interactive chat room at www.onthemat.com/radio. Log in to the chat room, click play on the radio link, and ask any questions you got!
Tuesday, January 3rd line-up:
-Jamie Toney at 6:30 p.m. PST.
-Adam Lynn at 7:00 p.m. PST.
-Antonio McKee at 7:30 p.m. PST.