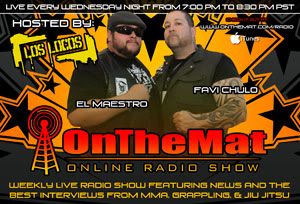 Tune in to OTM Radio on Wednesday, January 11th, 2012 as Los Locos, Favi Chulo and El Maestro, welcome three exciting guests from the SCC, DREAM, and the UFC!
The show will start off with a visit from UFC, TUF 11, and Iron Ring veteran Jamie Yager. The popular reality TV fighting star finished all three of his opponents in 2011 and will look to continue his success next month, as he faces Strikeforce veteran Danny Davis Jr. in a middleweight featured bout on Thursday, February 16th at SCC 4 at the Orelans Arena in Las Vegas, Nevada. Next we will be joined by longtime WEC bantamweight Antonio Banuelos, who is fresh off of his run to the DREAM Bantamweight Grand Prix Finals on New Year's Eve in Saitama, Japan.
The show will then conclude with a visit from UFC and K-1 star Duane "Bang" Ludwig. Ludwig will join the show just a few short weeks after Dana White and UFC management officially fixed their record books. At UFC Fight Night 3, nearly 6 years ago to the day, Ludwig needed only 6 seconds to KO Jonathan Goulet. Now that the UFC fixed the time keeping error from that bout, Ludwig's KO now stands as the fastest KO in UFC history. Ludwig will be stepping back into the Octagon to face Josh Neer, just 4 days after the 6 year anniversary of his record setting KO. On Friday, January 20th, Ludwig vs. Neer will also serve as the co-main event of the first ever UFC event televised live on FX.
If you have any questions you would like to ask any of our guests, please feel free to log in to our interactive chat room at www.onthemat.com/radio. Log in to the chat room, click play on the radio link, and ask any questions you got!
Wednesday, January 11th line-up:
-Jamie Yager at 7:15 p.m. PST.
-Antonio Banuelos at 7:30 p.m. PST.
-Duane Ludwig at 7:45 p.m. PST.