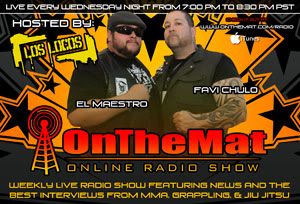 Tune in to OTM Radio on Wednesday, May 23rd, 2012 as Los Locos, Favi Chulo and El Maestro welcome in one of the best female MMA fighters in the world, a UFC welterweight veteran, and a Strikeforce veteran.
The show will start with a visit from Jessica Penne. Penne was victorious in the co-headliner for Invicta FC's inaugural event at the end of April against fellow top-rated atomweight (105-pound) fighter Lisa Ellis. Penne will discuss the all-women's MMA league Invicta FC, as well as her training routine, which includes working out with Rafael Cordeiro at Kings MMA, Mark Muñoz at Reign Training Center, and Leo Vieira at CheckMat BJJ.
Next we will be joined by one of the UFC's talented welterweight fighters in Jorge "Lil' Monster" Lopez. Lopez is a Wanderlei Silva protégé who fights out of Wand Fight Team in Las Vegas, Nevada. He originally joined OTM Radio in January during our a live show at OTM Fight Shop – Las Vegas and discussed an upcoming bout with TUF 7 champion Amir Amir Sadollah, which was first scheduled for UFC 143 on Super Bowl weekend. Both fighters ended up getting injured, but eventually met last week in the co-main event of UFC on Fuel TV 3. Lopez will discuss the bout, which Sadollah won via controversial Split Decision despite many believing Lopez won with dominant wrestling.
The show will then conclude by talking to Kim "Sugar Free" Couture. Couture is the ex-wife of UFC Hall of Famer Randy Couture and currently fights professionally and trains alongside other aspiring female fighters in the sport. She appeared on the same live show as Lopez in January and has since fought again herself, as well as help Sofia Bagherdai get ready for her bout at Invicta FC, which is the same show Penne fought and won on in April.
If you have any questions you would like to ask any of our guests, please feel free to log in to our interactive chat room at www.onthemat.com/radio. Log in to the chat room, click play on the radio link, and ask any questions you got!
Wednesday, May 23rd line-up:
-Jessica Penne at 7:15 p.m. PST.
-Jorge Lopez at 7:30 p.m. PST.
-Kim Couture at 7:45 p.m. PST.