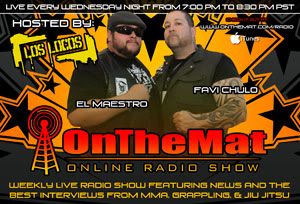 Tune in to OTM Radio on Wednesday, June 13th, 2012 as Los Locos, Favi Chulo and El Maestro, welcome in a former UFC fighter turned RFA color commentator, one of Wanderlei Silva's top up-and-coming students, an undefeated Strikeforce star, and female pro boxer who just signed with Invicta FC.
The show will start with a visit from longtime friend of OTM Justin "The Insane One" McCully. McCully is a black belt in jiu-jitsu under UFC, PRIDE, and IFL veteran Allan Goes. After going 2-2 in the UFC heavyweight division, McCully recently made a comeback in the RFA. He won his bout with Justin Grizzard via first round TKO at RFA 1 in December. McCully would return at RFA 2 as a commentator alonside the likes of Jens Pulver and Mauro Ranallo. McCully is now set to appear in the same capacity with longtime UFC fan favorite Stephan Bonnar. they will cover all the play-by-play and live action at RFA 3 on Saturday, June 30th.
The show will then have up-and-coming bantamweight fighter Andrew "The Golden Boy" Yates. After making his amateur MMA debut in April 2008, Yates put together a 25-fight amateur career, which eventually saw him join the ranks of Wand Fight Team in Las Vegas, Nevada. Under the tuteledge of Wanderlei Silva, one of MMA's all-time greats, Yates made won his first 4 pro fights and will look to continue that streak this weekend in a rematch with Colton Robertson. Yates defeated Robertson in March via first round submission.
Next we will be joined by one of the top fighters in Strikeforce in Lorenz "The Monsoon" Larkin. After turning pro in August 2009, Larkin won his first 12 bouts, which included 8 via KO or TKO. His devastating Muay Thai skills earned him a fight against former Strikeforce champion Muhammad "King Mo" Lawal this past January. Despite initially losing the fight to Lawal, the result was eventually changed to a "no contest" after Lawal tested positive for steroids. This kept Larkin's unbeaten record intact. Larkin will now be dropping down to middleweight to face the heavy-handed superstar Robbi Lawler on next month's Strikeforce card in Portlan, Oregon.
The show will then conclude by talking to Noemi "La Rebelde" Bosques. Just a couple weeks ago, on Friday, May 18th, Bosques made her pro boxing debut at 113-pounds in her home Tampa Bay area. She defeated Amarilis Adorno via Unanimous Decision. Just a few weeks earlier, she was in attendance at the inaugural all-women's MMA event Invicta FC 1, which has made many wonder if she will soon be plying her trade in MMA as well.
If you have any questions you would like to ask any of our guests, please feel free to log in to our interactive chat room at www.onthemat.com/radio. Log in to the chat room, click play on the radio link, and ask any questions you got!
Wednesday, June 13th line-up:
-Justin McCully at 7:15 p.m. PT.
-Andrew Yates at 7:30 p.m. PT.
-Lorenz Larkin at 7:45 p.m. PT.
-Noemi Bosques at 8:00 p.m. PT.