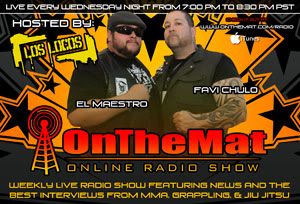 ---
Tune in to OTM Radio on Wednesday, December 21st, 2011 as Los Locos, Favi Chulo and El Maestro, host undefeated Strikeforce fighter Lorenz "The Monsoon" Larkin, as he prepares to fight fellow Strikeforce light-heavyweight super star Muhammed "King Mo" Lawal. The bout will take place Saturday, January 7th on the main card of Strikeforce – Rockhold vs. Jardine, which is the first Zuffa event of 2012.
Also joining the show will be UFC lightweight and Team Alpha Male standout Danny "Last Call" Castillo, who will be fighting fellow WEC star turned UFC fighter Anthony Njokuani in one of the last two live UFC fights to be televised on Spike. Their bout comes just one month after Castillo's first round TKO of Shamar Bailey and will take place on Friday, December 30th at UFC 141 – Lesnar vs. Overeem, which is the last Zuffa event of 2011.
The show will then conclude with a visit from longtime PRIDE and UFC heavyweight veteran Gilbert "The Hurricane" Yvel, who is fresh off of his impressive light-heavyweight debut this past weekend at RFA 1. Yvel will discuss his first round TKO of Damian Dantibo and his plans for fighting at 205-pounds in 2012.
If you have any questions you would like to ask any of our guests, please feel free to log in to our interactive chat room at www.onthemat.com/radio. Log in to the chat room, click play on the radio link, and ask any questions you got!
Wednesday, December 21st line-up:
-Lorenz Larkin at 7:15 p.m. PST.
-Danny Castillo at 7:30 p.m. PST.
-Gilbert Yvel at 7:45 p.m. PST.