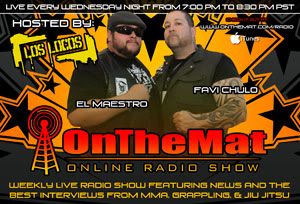 Tune in to OTM Radio on Wednesday, November 23rd, 2011 as Los Locos, Favi Chulo and El Maestro, host 2008 Olympic Judo bronze medalist and undefeated MMA fighter Ronda Rousey, fresh off of her 39 second armbar victory at Strikeforce this past Friday. Incredibly, she has finished all 4 of her fights via armbar in under 50 seconds, since making her professional MMA debut earlier this year!
Also joining the show will be the legendary Bas Rutten, who is a former UFC heavyweight champion and boasts one of the biggest broadcasting personalities in the sport. The show will then get a visit from arguably the best referee in the sport of MMA, as Herb Dean will stop by and talk about what it's like to be the third man inside the cage. The show will wrap up with a visit from UFC and WEC lightweight veteran fighter Kamal Shalorus.
If you have any questions you would like to ask any of our guests, please feel free to log in to our interactive chat room at www.onthemat.com/radio. Log in to the chat room, click play on the radio link, and ask any questions you got!
Wednesday, November 23rd line-up:
-Ronda Rousey at 7:15 p.m. PST.
-Bas Rutten at 7:30 p.m. PST.
-Herb Dean at 7:45 p.m. PST.
-Kamal Shalorus at 8:00 p.m. PST.