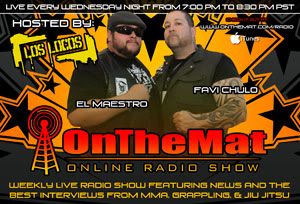 Tune in to OTM Radio on Wednesday, January 18th, 2012 as Los Locos, Favi Chulo and El Maestro welcome in veterans of the UFC, Strikeforce, and Bellator.
The show will start with a visit from longtime WEC veteran and current UFC lightweight Shane Roller, who will be fighting TUF 12 finalist Michael Johnson. The bout will be televised on Fuel TV on the undercard of UFC on FOX 2 – Evans vs. Davis on Saturday, January 28th 2012.
Next we will be joined by Jesse Juarez who has fought for Strikeforce, Bellator, Shark Fights, and MFC. Juarez will be fighting Waachiim Spiritwolf on March 30th in the main event of the EFWC event in Anaheim, California.
The show will then conclude by talking to Juarez's opponent at the EFCW main event, Waachiim Spiritwolf. Spiritiwolf is also a seasoned veteran having fought for Strikeforce, Bellator, Fight Force International, and King of the Cage.
If you have any questions you would like to ask any of our guests, please feel free to log in to our interactive chat room at www.onthemat.com/radio. Log in to the chat room, click play on the radio link, and ask any questions you got!
Wednesday, January 18th line-up:
-Shane Roller at 7:15 p.m. PST.
-Jeese Juarez at 7:30 p.m. PST.
-Waachiim Spiritwolf at 7:45 p.m. PST.