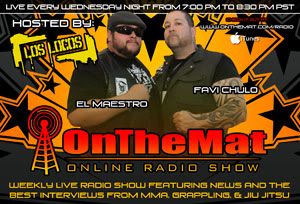 Tune in to OTM Radio on Wednesday, December 28th, 2011 as Los Locos, Favi Chulo and El Maestro, host one of Strikeforce's fastest rising stars Tarec "Sponge" Saffiedine, as he prepares to fight fellow Strikeforce welterweight prospect Tyler "The Evolution" Stinson. The bout will take place Saturday, January 7th on the main card of Strikeforce – Rockhold vs. Jardine, which is the first Zuffa event of 2012.
During the final half of the show, we will be joined by UFC veteran and MFC #1 contender Brian "The Bandit" Cobb. Cobb will discuss his upcoming title fight with fellow UFC veteran and MFC champion Antonio "Mandingo" McKee at MFC 32 – Bitter Rivals. Cobb will challenge McKee for his MFC lightweight title on Friday, January 27th, 2012 at the Mayfield Inn Trade and Conference Centre in Edmonton, Alberta, Canada.
If you have any questions you would like to ask any of our guests, please feel free to log in to our interactive chat room at www.onthemat.com/radio. Log in to the chat room, click play on the radio link, and ask any questions you got!
Wednesday, December 28th line-up:
-Tarec Saffiedine at 7:15 p.m. PST.
-Brian Cobb at 7:30 p.m. PST.