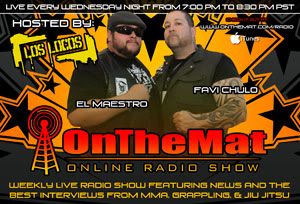 Tune in to OTM Radio on Wednesday, April 11th, 2012 as Los Locos, Favi Chulo and El Maestro welcome in a rising RFA heavyweight star, a former UFC heavyweight champion, and one of the leaders of Black House.
The show will start with a visit from Tyler Perry. Perry is a heavyweight prospect with an amazing pedigree. In collegiate wrestling, he was teammates at the University of Missouri with two current Bellator champions: Ben Askren (welterweight champ) and Michael Chandler (lightweight champ). One of his graduate coaches was current Strikeforce weltweight top-contender Tyron Woodley. He also got to compete against the past two NCAA Division I heavyweight champions: Zack Rey of Lehigh (2011 champ) and Tony Nelson of Minnesota (2012 champ). Now he is training with two former UFC heayweight champions: Maurice Smith (kickboxing) and Frank Mir (jiu-jitsu). On Friday, March 30th, Perry won his pro MMA debut at RFA 2 by submitting Wayman Carter via first round arm-triangle choke.
Next we will be joined by MMA pioneer and former UFC heavyweight champion Maurice "Mo" Smith. Smith along with Frank Shamrock and Tsuyoshi Kohsaka, created MMA's first super-team known as "The Alliance" back in the 1990's. He would also win the UFC heavyweight title over Mark Coleman at UFC 14 in 1997. Nearly 15 years later, at RFA 2, Smith returned to compete for the first time in nearly 4 years in his light-heavyweight debut. At 50 years of age, Smith proved that superior skills can offset many things, including father time. He turned back the clock and systematically dismantled his much younger opponent Jorge Cordoba before putting an end to things in the third round with a brutal head kick KO.
The show will then conclude by talking to Jorge Guimarães, who helps run Black House, one of MMA's most successful teams. Guimarães, alongside Ed Soares, has helped guide the careers of many of the sports top fighters, including current UFC middleweight champion Anderson Silva, former UFC light-heavyweight champion Lyoto Machida, former UFC interim heavyweight champion Antonio Rodrigo Nogueira and his twin brother Antonio Rogerio Nogueira, as well as current UFC heavyweight champion Junior dos Santos and current UFC featherweight champion Jose Aldo who are now under separate management. Guimarães and Soares now expect to see similar success from their TUF 15 lightweight star Justin Lawrence and recent UFC light-heavyweight signee Glover Teixeira.
If you have any questions you would like to ask any of our guests, please feel free to log in to our interactive chat room at www.onthemat.com/radio. Log in to the chat room, click play on the radio link, and ask any questions you got!
Wednesday, April 11th line-up:
-Tyler Perry at 7:15 p.m. PT.
-Maurice Smith at 7:30 p.m. PT.
-Jorge Guimarães at 7:45 p.m. PT.