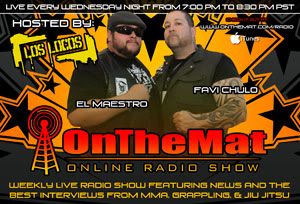 Tune in to OTM Radio on Wednesday, December 7th, 2011 as Los Locos, Favi Chulo and El Maestro, host one of MMA's most likeable characters in Ulysses "Useless" Gomez. Useless began competing successfully on the grappling and jiu-jitsu scene a decade ago, which also saw him gain a large following due to his prankster personality via online MMA message boards. His pro MMA debut in March 2008 brought him even greater success, which includes winning two Tachi Palace Fights (TPF) world titles in two different weight classes. Useless will stop by the show to discuss his latest victory over this past weekend, where he won the TPF bantamweight title via submission.
During the final half of the show, we will be joined by top UFC welterweight contender Johny Hendricks. Hendricks will discuss his upcoming bout with perennial top contender Jon Fitch. Their fight goes down later this month on the main card of UFC 141 – Lesnar vs. Overeem. Hendricks has rattled off a 6-1 record in the UFC, after winning his only two bouts in the UFC's former sister promotion the WEC. Prior to his MMA career, Hendricks was a 2-time National Champion and 4-time All-American wrestler at Oklahoma State University (OSU). That being said, Hendricks will undoubtedly share his toughts on how ludicrous the flawed BCS system is in college football for not inviting OSU to the national title game.
If you have any questions you would like to ask any of our guests, please feel free to log in to our interactive chat room at www.onthemat.com/radio. Log in to the chat room, click play on the radio link, and ask any questions you got!
Wednesday, December 7th line-up:
-Ulysses Gomez at 7:05 p.m. PST.
-Johny Hendricks at 7:30 p.m. PST.