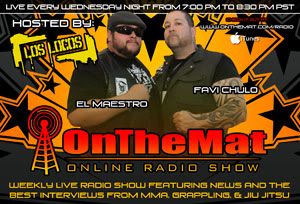 ---
Tune in to OTM Radio on Wednesday, March 21st, 2012 as Los Locos, Favi Chulo and El Maestro, host one of the most exciting lightweight fighters in the UFC.
Team Alpha Male standout Danny "Last Call" Castillo, who made a name for himself in the WEC before joining the UFC ranks one year ago, will be joining the show to talk about his upcoming fight. Castillo is scheduled to face John Cholish on Saturday, May 5th, 2012 at UFC on FOX 3. Castillo will be riding the momentum of his wins over Joe Stevenson, Shamar Bailey, and Anthony Njokuani after making his UFC debut last year.
Castillo, who is a former NAIA All-American in wrestling at Menlo College, will also discuss this past weekend's NCAA Division I Wrestling Championships, as well as his thoughts on his friend and training partner Urijah Faber's chances of producing the winning fighter on The Ultimate Fighter 15 before facing his arch-enemy Dominick Cruz in a rubber-match at UFC 148 in July.
If you have any questions you would like to ask any of our guests, please feel free to log in to our interactive chat room at www.onthemat.com/radio. Log in to the chat room, click play on the radio link, and ask any questions you got!
Wednesday, March 21st line-up:
-Danny Castillo at 7:30 p.m. PST.