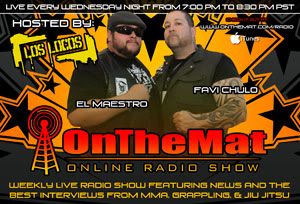 Tune in to OTM Radio on Wednesday, February 8th, 2012 as Los Locos, Favi Chulo and El Maestro welcome in an MMA super agent, an Olympic gold medalist, and a decorated jiu-jitsu black belt.
The show will start with a visit from Ed Soares, who is one of MMA's most successful managers. He has helped guide the careers of current UFC middleweight champion Anderson Silva, former UFC light-heavyweight champion Lyoto Machida, former UFC interim heavyweight champion Antonio Rodrigo Nogueira and his twin brother Antonio Rogerio Nogueira, as well as current UFC heavyweight champion Junior dos Santos and current UFC featherweight champion Jose Aldo who are now under separate management.
Next we will be joined by Kendall Cross. Cross is recognized as a distinguished member of the National Wrestling Hall of Fame, after being inducted in 2002. His career accolades include being a three-time All-American and a NCAA Division I national champion at Oklahoma State. Cross later went on to be a two-time Olympic wrestler, eventually winning a gold medal in freestyle wrestling at the 1996 Summer Olympics in Atlanta, Georgia, USA.
The show will then conclude by talking to UFC veteran and jiu-jitsu black belt Diego Saraiva. Saraiva is an accomplished Nova União black belt and the former PFC lightweight champion. He is well-known for competing on the national grappling and jiu-jitsu circuit, as well as fighting in the UFC on three occasions. Saraiva is currently the head instructor at his gym called Team Octopus, which is located in Atlanta, Georgia, USA.
If you have any questions you would like to ask any of our guests, please feel free to log in to our interactive chat room at www.onthemat.com/radio. Log in to the chat room, click play on the radio link, and ask any questions you got!
Wednesday, February 8th line-up:
-Ed Soares at 7:15 p.m. PST.
-Kendall Cross at 7:30 p.m. PST.
-Diego Saraiva at 7:45 p.m. PST.
M