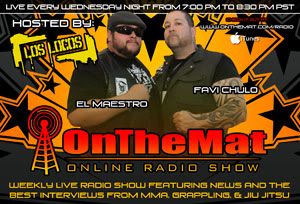 Tune in to OTM Radio on Wednesday, March 7th, 2012 as Los Locos, Favi Chulo and El Maestro welcomes Penn State 147lbs Champion, retired American Martial Artist, TPF 12 Fighter, and a flyweight division in the UFC.
The show will start with a visit from Frank Molinaro. Senior Frank Molinaro heads into his senior season looking to become Penn State's fifth four-time All-American and, like Penn State's last four-timer Phil Davis, cap it off with a national championship. Molinaro was the national runner-up at 149 a year ago during Penn State's team title run and returns for one last shot at an individual title.
Next we will be joined by Guy "The Sandman" Mezger. is a retired American martial artist who competed in professional combat sports ranging from full contact karate, kickboxing, and boxing, but is most recognized as a mixed martial arts fighter (retired from competition January 25, 2005). He is associated with Lion's Den Dallas. Mezger was a champion in mixed martial arts in two different promotions, the UFC and Pancrase. He holds wins over Tito Ortiz, Masakatsu Funaki, Yuki Kondo, Semmy Schilt, and Minoru Suzuki.
Then upcoming fight for TPF 12 – Second Coming fighter Savant Young will be talking about his upcming fight and more. Savant decided he wanted to begin training mixed martial arts full-time. In February 2007 Savant won his first fight in the International Fight League by defeating Ed West in a unanimous decision.
We will then conclude the show with UFC on FX fighter Iam McCall. We wil be talking to McCall about his last fight against Demetrious Johnson on the UFC on FX from March 2nd, 2012. Due to this scoring error, McCall and Johnson will rematch in April, 2012, to determine who will meet Joseph Benavidez in the finals of the flyweight tournament to determine the first UFC Flyweight Champion
If you have any questions you would like to ask any of our guests, please feel free to log in to our interactive chat room at www.onthemat.com/radio. Log in to the chat room, click play on the radio link, and ask any questions you got!
Wednesday, March 7th line-up:
-Frank Molinaro at 7:15 p.m. PST.
-Guy mezger at 7:30 p.m. PST.
-Savant Young at 7:45 p.m. PST.
-Ian McCall at 8:00 p.m. PST.