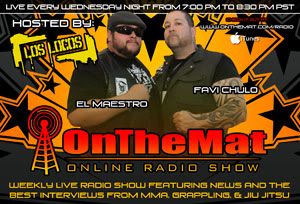 Tune in to OTM Radio on Tuesday, March 27th, 2012 as Los Locos, Favi Chulo and El Maestro welcome in a a co-host from MMA Uncensored Live on Spike, a UFC welterweight heavyweight star, and a RFA women's fighter.
The show will start with a visit from Mike Straka. Straka is best known for his weekly television show "MMA Uncensored Live" on Spike, where he is a co-host alongside Craig Carton and Nate Quarry. He has also appeared on Fox, HDNet, and MTV 2 making him one of the most recognizable television personalities in the sport.
Next we will be joined by one of the UFC's most promising heavyweight prospects Travis "Hapa" Browne. Browne hails from Hawaii and currently trains at Jackson's MMA in Albuquerque, New Mexico. He will be putting his undefeated MMA record (12-0-1) on the line next month as he faces one of Strikeforce's top heavyweight prospects Chad Griggs at UFC 145 – Jones vs. Evans on Saturday, April 21st in Atlanta, Georgia.
The show will then conclude by talking to Elaina "Beef" Maxwell. Maxwell is one of the top featherweight fighter's in women's MMA, who holds notable wins over Strikeforce veterans Alexis Davis and Shana Nelson. She will discuss her recent training trip in Thailand and her upcoming bout with Ashley "Loca" Sanchez that takes places this Friday night at RFA 2 – Yvel vs. Alexander in Kearney, Nebraska.
If you have any questions you would like to ask any of our guests, please feel free to log in to our interactive chat room at www.onthemat.com/radio. Log in to the chat room, click play on the radio link, and ask any questions you got!
Tuesday, March 27th line-up:
-Mike Straka at 7:15 p.m. PST.
-Travis Browne at 7:30 p.m. PST.
-Elaina Maxwell at 7:45 p.m. PST.