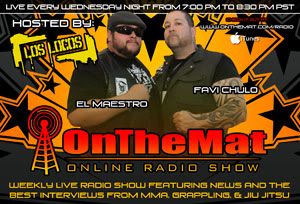 Tune in to OTM Radio on Wednesday, May 9th, 2012 as Los Locos, Favi Chulo and El Maestro welcome in two of the world's most famous and talented Jiu-Jitsu black belts.
The show will start with a visit from the one and only Roger Gracie. Roger is widely considered the most successful member of the legendary Gracie family in modern day competition. He is a multiple-time world champion with the gi, a multiple-time ADCC champion without the gi, and an aspiring and promising MMA fighter. He recently joined the Black House Gym, which is the home of Anderson Silva, Lyoto Machida, the Nogueira brothers, and several other MMA stars. Roger will be making his middleweight debut in July for Strikeforce against fellow light-heavyweight turned middleweight Keith Jardine. In the meantime, he will be one of 7 world-class black belt jiu-jitsu instructors giving a free jiu-jitsu seminar this weekend at the World Jiu-Jitsu Expo in Long Beach, California.
The show will then conclude by talking to another world-class black belt jiu-jitsu competitor in Ricardo "Cachorrão" Almeida. Almeida, like Roger, found success in the jiu-jitsu and submission grappling world before plying his trade in MMA. Almeida is a 5-time ADCC veteran, King of Pancrase champion, 2-time PRIDE veteran, and 11-time UFC veteran. He actually made his MMA debut at PRIDE 12 in December of 2000 and enjoyed a successful career, which came to a close after UFC 128 in March of last year. After his retirement from competition, Almeida stated that he wanted to spend more time focusing on training his teammates like Frankie Edgar, who he helped coach to a UFC lightweight title. Almeida will also be teaching a free jiu-jitsu seminar this weekend at the World Jiu-Jitsu Expo.
If you have any questions you would like to ask any of our guests, please feel free to log in to our interactive chat room at www.onthemat.com/radio. Log in to the chat room, click play on the radio link, and ask any questions you got!
Wednesday, May 9th line-up:
-Roger Gracie at 7:15 p.m. PT.
-Ricardo Almeida at 7:30 p.m. PT.